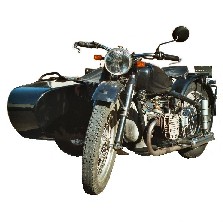 Manuel - Préparation - Page 3
3 OPERATION OF MOTORCYCLE / FONCTIONNEMENT DE LA MOTO
3.1 Preparation Before Start / Préparation avant le départ
3.1.1 Gasoline filling / Remplissage de l'essence
Before start, check gasoline and oil quantity first . Refill it if gasoline or oil is insufficient . Fill gasoline directly through the filter to gasoline tank . The gasoline level should be 15-20 mm below the edge of filler port.
Avant de partir, vérifiez en premier la quantité d'essence dans le réservoir. Remplissez-le si la quantité d'essence est insuffisante. Versez l'essence directement à travers le filtre du réservoir d'essence. Le niveau de l'essence devrait être de 15 à 20 mm au-dessous du filtre de remplissage.
3.1.2 Oil filling / Remplissage d'huile
3.1.2.1 The oil level should be maintained between the upper and lower mark lines of oil dipstick inside crankcase (see Fig.3 ) To measure oil, the threaded plug should not be screwed in but be on the filler edge. The oil inside gear box and rear drive casing should be filled to start of threads of the plug. / Le niveau d'huile doit être maintenu entre le haut et le bas des lignes marqués sur la jauge d'huile dans le carter (voir Fig.3) Pour contrôler le niveau d'huile, le bouchon fileté ne doit pas être vissé, mais être posé sur le bord de remplissage. L'huile de la boîte de vitesses et du pont doit être rempli au début du filetage du bouchon de remplissage..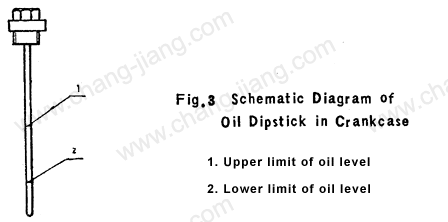 Fig.3 Jauge du Bouchon de remplissage d'huile
1 limite supérieur du niveau d'huile - 2. limite inférieur du niveau d'huile
3.1.2.2 Before oil filling, check the oil drain threaded plugs for being tightened. / Avant le remplissage d'huile, vérifier le filetage des bouchons de vidange d'huile qui doivent être resserés si nécessaires.
3.1.3 After gasoline and oil filling, check handle bar, brake and clutch for reliability and flexibility. Check pressure of tyres, fixation of wheels, connection of sidecar to main frame, electrolyte level of battery, and electric circuit and gasoline (oil) lines for serviceability. / Après l'essence et l'huile, vérifiez le guidon, les freins et d'embrayage pour leur fiabilité et leur souplesse. Vérifiez la pression des pneus, la fixation des roues, du side-car et la connexion au cadre, le niveau d'électrolyte de la batterie, et de circuit électrique d'essence (huile) pour les durites aussurant le service.
3.2 Engine Start / Démarrage du moteur
There are two kinds of starting devices for the engines listed in this instruction. One is kickstarter and the other is starting motor and kickstarter. The engine can be started on completion of the above preparation.
Il existe deux types de dispositifs de démarrage pour les moteurs énumérés dans la présente instruction. On a à disposition le Kickstarter et le démarreur ou seulement le Kickstarter. Le moteur peut être démarré après la préparation ci-dessus.
The following steps should be taken for "cold" engin starting :
Les étapes suivantes doivent être prises compte pour un départ à froid :
3.2.1Turn on the gasoline control knob / Activer le robinet d'essence.
This knob is a three-position one. Left position is ON position, right position is STANDBY position ( when the knob is set to this position, motorcycle can run 30 km more) , and the down position is OFF position.
Ce robinet est à trois positions, une à Gauche pour l'ouverture, la position droite est la postion STANDBY (réserve : quand le robinet est réglé sur cette position, la moto peut parcourir plus de 30 km), et la position OFF.
3.2.2Set the hand gear shift lever or foot gear shift lever to neutral gear position between gear positions No.1 and No.2 (see Figs 4 and 5). Check to see whether the gear lever is at neutral positicn by stepping lightly the kickstarter . If the wheels wouldn't move, the neutral gear position is properly set. If the wheels trend to move forward, the neutral gear position is not properly set. 'I'hen it should be reset. The engine can be started only when the neutral gear position is properly set. / Régler le levier de changement de vitesse à la main ou au pied au point mort , soit la position entre la vitesse 1 et n° 2 (voir figures 4 et 5). Vérifiez si le levier de vitesse est au neutre en enfonçant légèrement le Kickstarter. Si les roues ne se déplace pas, la position de point mort est réglée. Si les roues ont tendance à aller de l'avant, la position de point mort n'est pas correctement réglé. La vitesse devrait être remis à zéro. Le moteur peut être démarré que lorsque la position de point mort est bien réglé.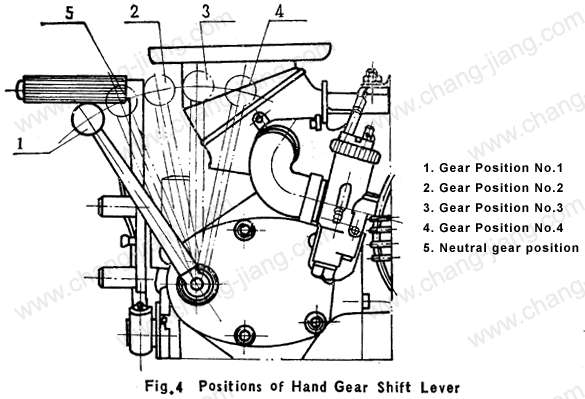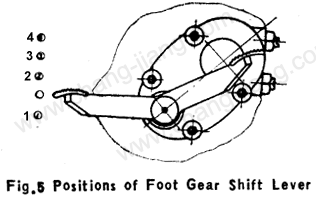 3.2.3 Press down the button attached on the float chamber cover until the gasoline spills out from the float chamber cover of the carburetter. / Appuyez sur le bouton de la cuve d'essence du carburateur.

3.2.4 Close the air valve approximately by half (1/2). / Fermer la valve d'air d'environ de moitié (1/2).

3.2.5 Turn outwards the throttle twist grip to the end, then bring it back to 1/8 full travel. / Tourner vers l'extérieur la poignée des gaz à la fin, puis le ramener à 1/8 de la rotation.

3.2.6 Step the kick starter for 4-5 times to make the crank shaft operate. The cylinders suck in some mixed air and oil is supplied to part surfaces in advance which need to be lubricated. / Kicker 4-5 fois pour faire fonctionner le vilebrequin. Les cylindres vont aspirer une quantité de mélange mixte d'air et d'huile nécessaires aux surfaces ayant besoin d'être lubrifié.

3.2.7 Cut-in the ignition switch by use of key (turn the key counterclockwise for daytime driving and vice versa). / dans le commutateur d'allumage par l'utilisation de la touche (tourner la clé dans le sens antihoraire pour la conduite de jour et vice-versa).

3.2.8 Press down the kickstarter slightly by foot to make the brake block insert into the ratchet wheel of the starting gear (No idle travel is felt). Then starting can be realized by stepping the kickstarter forcefully. If staring motor is used, first set the levers to neutral positon. (see Figs 4 and 5),or hold the clutch lever with left hand to disengage the clutch. Press the starting button with right hand (each press should not take more than 3 seconds. Interval between two presses should not be less than 2 seconds. Restarting should be done one minute later after three successive presses). / Appuyer sur le Kickstarter au pied légèrement pour mettre en compression le moteur (la pédale s'arrête). Puis, à partir de là il peut être réalisé un coup sec et ferme sur le Kickstarter. En cas de départ au démarreur, mettre les leviers à la position neutre. (voir figures 4 et 5), ou alors avec la main gauche désengagé l'embrayage. Appuyez sur le bouton de départ avec la main droite (pressé sur le bouton de démarreur ne doit pas prendre plus de 3 secondes. L'intervalle entre deux appuis ne doit pas être inférieure à 2 secondes. Le redémarrage doit être fait une minute plus tard après trois tentatives de démarrage).

CAUTION / ATTENTION :If it fails to start by trying several times, it is forbidden to successs-vely press the starting button or step the kickstarter. Otherwise it will shorten the life of battery and starting mechanism. / Si on ne parvient pas à démarrer en essayant à plusieurs reprises, il est interdit d'appuyer successivement sur le bouton de démarreur ou de retenter un démarrage au Kickstarter. Sinon, ce comportement risque de raccourcir la durée de vie de la batterie et le mécanisme de démarrage.
P3.2.9 After the engine is started, slowly open the air valve according to the engine operating condition. / Après que le moteur est démarré, ouvrir lentement la vanne d'air en fonction de l'état de fonctionnement du moteur.
P3.2.10 According to the operation sound of the engine, rotate the throttle grip to warm up the engine at low speed and then drive the motorcycycle. / Selon le bruit de fonctionnement du moteur, tourner la poignée des gaz pour faire chauffer le moteur à basse vitesse et conduire la motocyclette.
3.3 Astern driving of three-wheel motorcycle (with sidecar) / Marche arrière pour la conduite de motocyclette à trois roues (avec side-car)
For astern driving operate as follows / La marche arrière fonctionne comme suit :
a. Stop the motorcycle. / Stopper la moto.
b. Set the gear to position No. 1 (or neutral) / Réglez la vitesse à la position n ° 1 (ou neutre)
c. Apply the astern lever with left tiptoe or left sole to Astern position. / Activer le levier de marche arrière avec la TEFT Tiptoe seule ou le levier à gauche permettant la position arrière.
d. Drive astern the motorcycle with normal driving method / Conduire en arrière la moto avec la méthode normale de conduite.
Astern operation Positions are shown in Fig 6 / Les manipulations de la marche arrière sont indiquées dans la Fig 6.

3.4 Engine Shutdown / L'arrêt du moteur

3.4.1 For engine shutdown, reduce the throttle, then turn off the ignition switch. / Pour l'arrêt du moteur, réduire les gaz, puis éteignez l'interrupteur d'allumage.


3.4.2 After engine shutdown, take out the key and set the gasoline control knob to OFF positicn. For long period parking, the battery should be disconnected to avoid electric leakage. / Après l'arrêt du moteur, prendre la clé et fermer l'essence en mettant la position du bouton sur OFF. Pendant de longues périodes de stationnement, la batterie doit être débranché pour éviter le déchargement.


3.5 Parking in Severe Cold Season / Stationnement en saison froide

In severe cold season, the following procedures should be taken for parking the motorcycle outside / En saison froide, les procédures suivantes doivent être prises pour les départs de la moto en extérieur.

3.5.1 Before parking, set the gasoline control knob to OFF and press down the float button to make all gasoline remaired in the carburetter burnt out / Avant le départ, réglez le bouton de contrôle de l'essence sur OFF et appuyez sur le bouton pour faire flotter l'essence dans le carburateur encore chaud.

3.5.2 Remove the battery to prevent it from being damaged by frost / Retirer la batterie pour l'empêcher d'être endommagé par le gel.
NOTE / NOTA : If starting motor is to be used due to engine flameout caused by improper operation to the motorcycle, hold the clutch lever to disengage the clutch, then start the engine with motor. It is not necessary to neutral position for starting and the gear lever may be set at any position, but it is better to be set at lower gear position so as to get smooth starting. If kickstarter is to be used, starting can be performed only when the neutral pesition is set. / Si vous utilisez le démarreur en raison d'un arrêt causé par une mauvaise opération de la moto, maintenez le levier d'embrayage pour désengager l'embrayage, puis démarrer le moteur avec le démarreur. Il n'est pas nécessaire que la position neutre (point mort) soit engagée pour le démarrage, le levier de vitesse peut être positionné sur n'importe quelle position, mais il est préférable d'être sur une vitesse faible (1ère ou 2ème) afin d'obtenir un bon départ. Si le Kickstarter est destiné à être utilisé, commencé par mettre le point mort avant d'effectuer une démarrage.
Fermer cette fenêtre pour retourner à "Mon CJ750".